PNG Images
Low-Poly Pirate Island
Yo-ho-ho and the bottle of rum!
Watch the entire timelapse video to see how we created this vibrant treasure island. We hope you guys will enjoy it. If you want us to create more tutorials and videos about Yellow Images products and how to use them - just contact us and share your feedback.
Who of us didn't like pirate legends as kids? All these stories about overseas adventures, hidden treasures and deserted islands? Compared to our busy lifestyles of today, the pirate life seems awfully appealing and makes a huge room for creativity.
So put up the sails and check ​how we ​used ​low-poly PNG Images and our free Add-on for Adobe Photoshop to materialize our own pirate dream.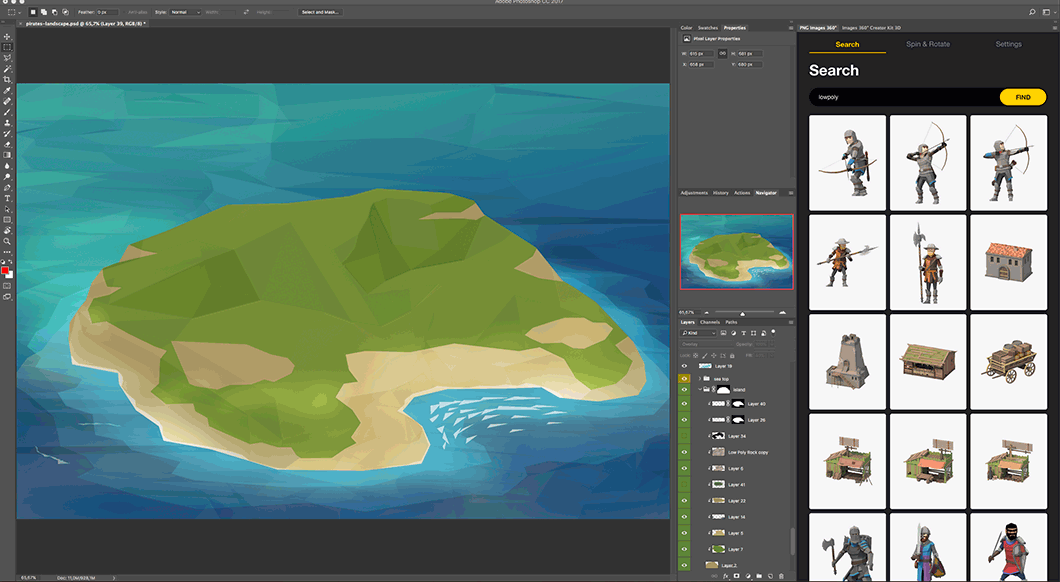 First we used the pen tool to create a shape of a reef island, which we later turned into landscape. We got inspired by the Caribbean Islands and their color palette - deep blues, bright cyan, warm sand, and achieved deep water effect by multilayering low-poly textures and adding light brushstrokes.
TIP: PNG Images low-poly items have an exceptional quality, so you can expand, angle and transform them in order to create amazing low-poly textures, just like we did in our ​Medieval Low-Poly City Tutorial​. It requires no real efforts, but the result is outstanding.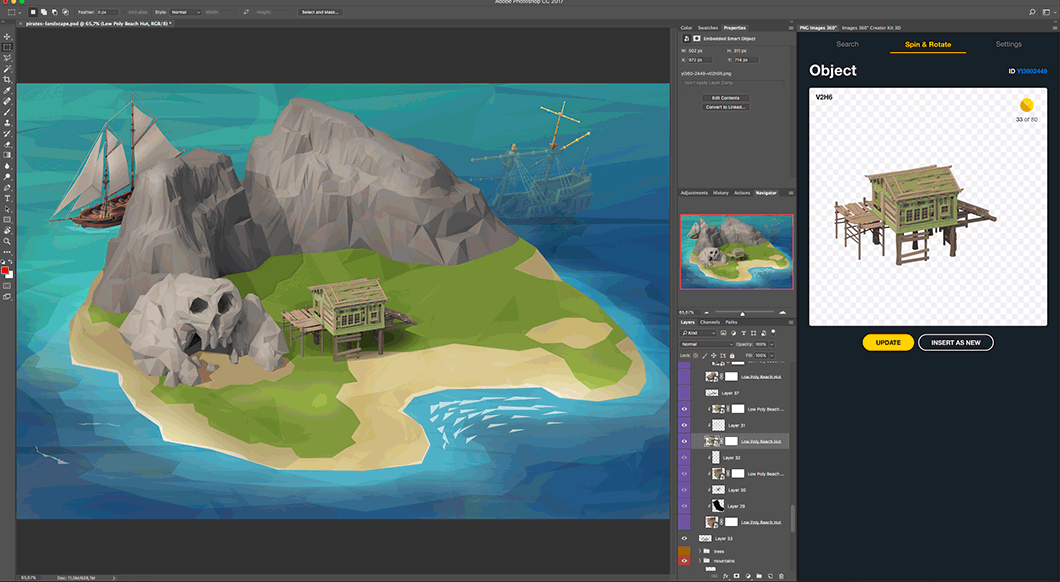 Most of buccaneer islands were famous by their sheer and mysterious cliffs, which served as a natural protection from uninvited guests. Only an old whale or a lucky one could get there alive. That's why we placed a skull-shaped cave and a sunken ship into our image to keep it authentic. We couldn't forget the most dangerous white sharks either.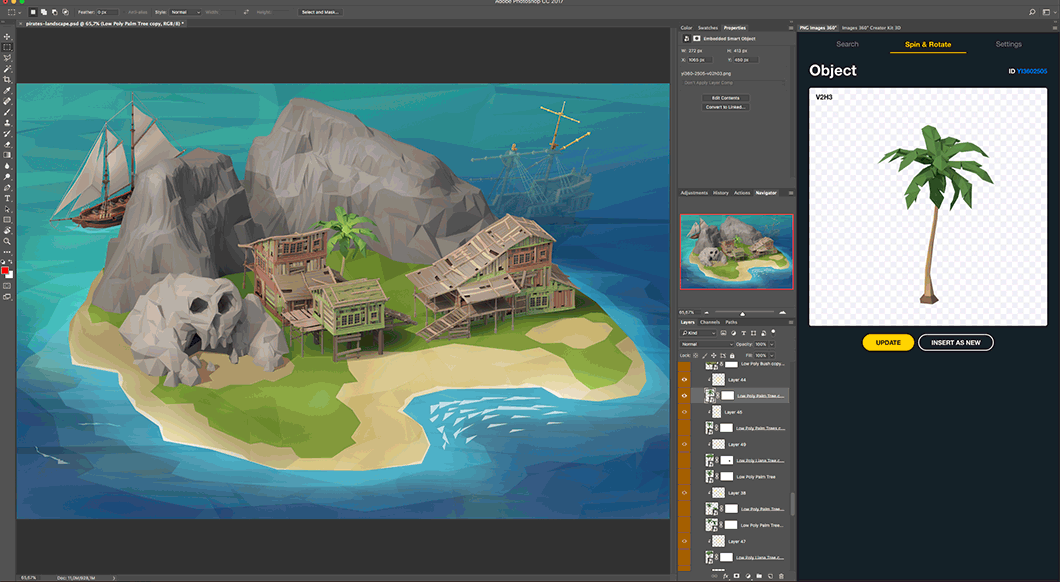 However, a schooner on the background and old pirate huts tell us this island is not at all deserted. A rich vegetation completed the landscape and our special Photoshop Add-on made the process incredibly simple, because we could find all necessary angles and objects without ever leaving Photoshop.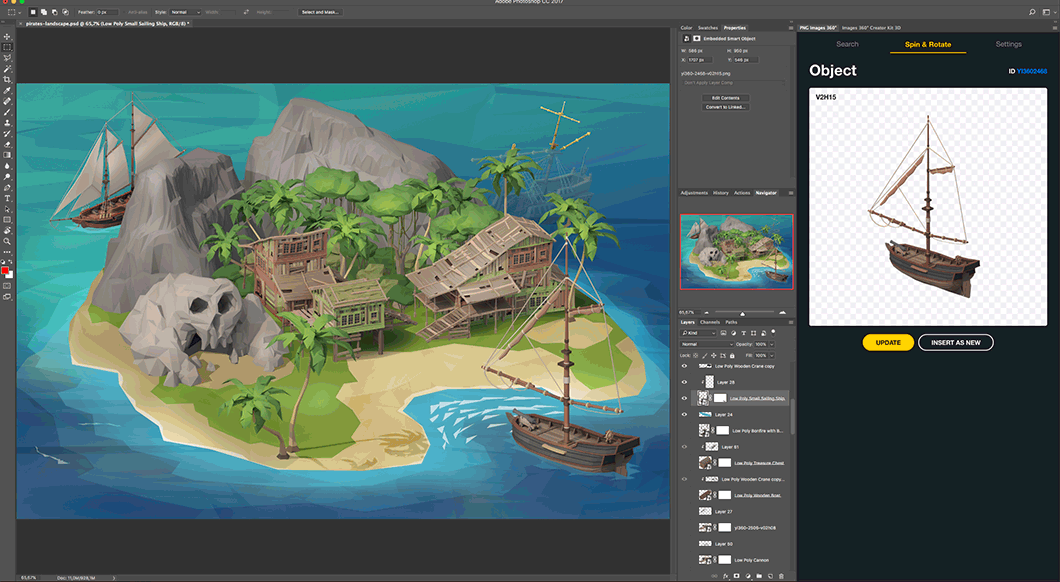 The next step was to fill the island with pirate props and goods: a bonfire, where the crew cooks the tuna for dinner, heavy raw iron cannons, a boat, chests packed with gold, an observation tower to prevent the trespassers and even the skeletons of treasure seekers, because dead men tell no tales.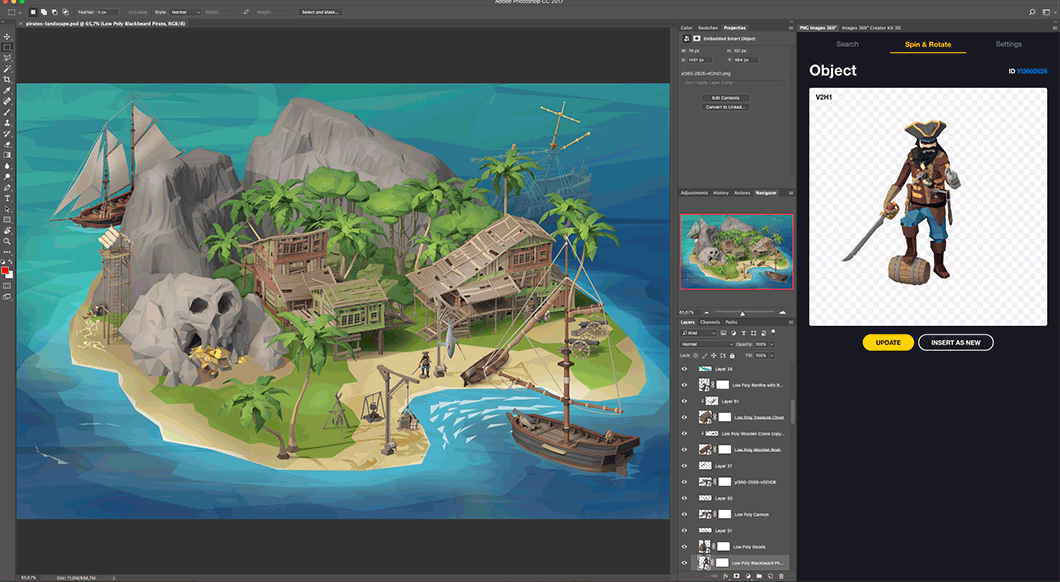 Time to inhabit the picture. The Golden age of Piracy is greatly romanticised in the pop-culture. The way pirates look and talk originally ​derives from popular novels and on-screen bestsellers, so we could easily recall typical pirate archetypes and locate them in PNG Images gallery. We selected a few of them, a cruel and fair captain, lady pirate, boatswain with the jolly Roger, protagonist hero and a bunch of sailors doing all the hard work.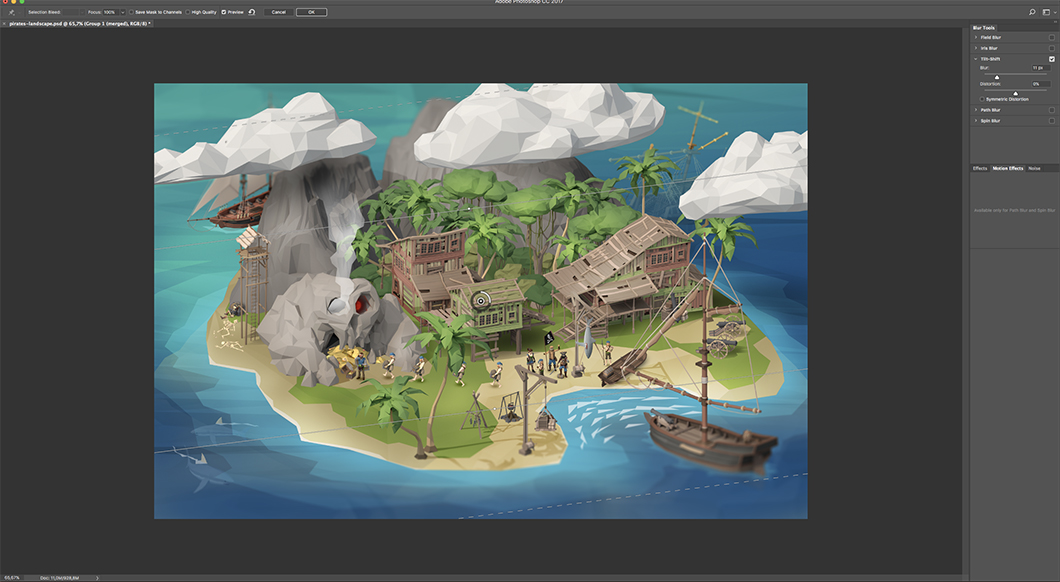 Even though the whole low-poly concept sends us back to retro console game esthetics and looks pretty cartoonish, it still can be pretty realistic and trendy. Grounds and perspective, that's all it takes.
TIP: Add special effects like smoke, fog, shadows and other light effects to breathe life into your low-poly images. To drop shadows, just duplicate each object into separate layers and paint the duplicates black, elongate or shorten their shapes, align them in the direction opposite to the light source and finally adjust the opacity of shadows.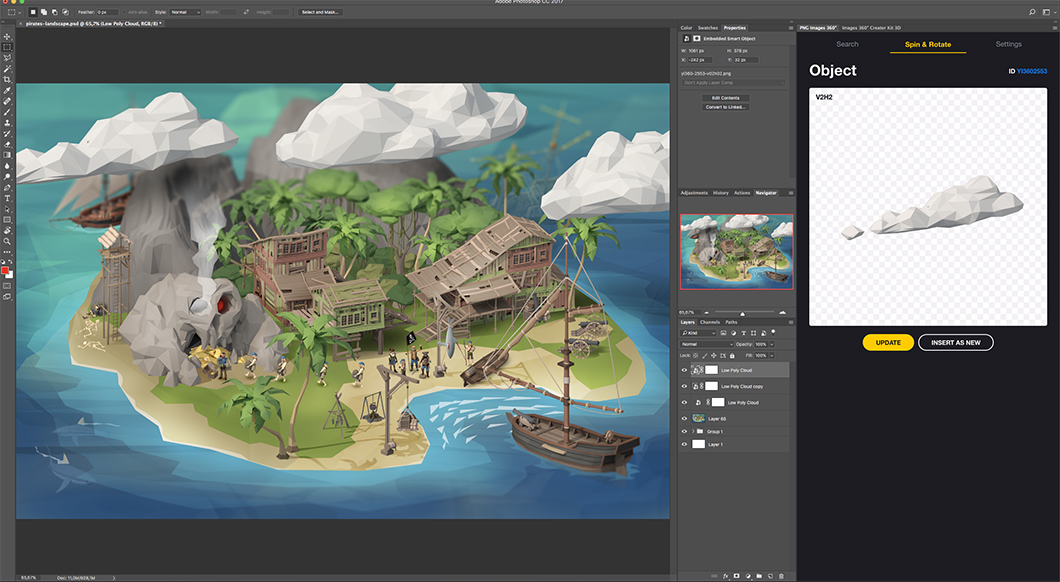 We fleshed out our marine landscape with massive clouds, applied our favourite tilt-shift effect as a final touch and here it is, our colorful and picturesque Low-poly Pirate Island we created with the help of ​Adobe Photoshop and PNG Images extension.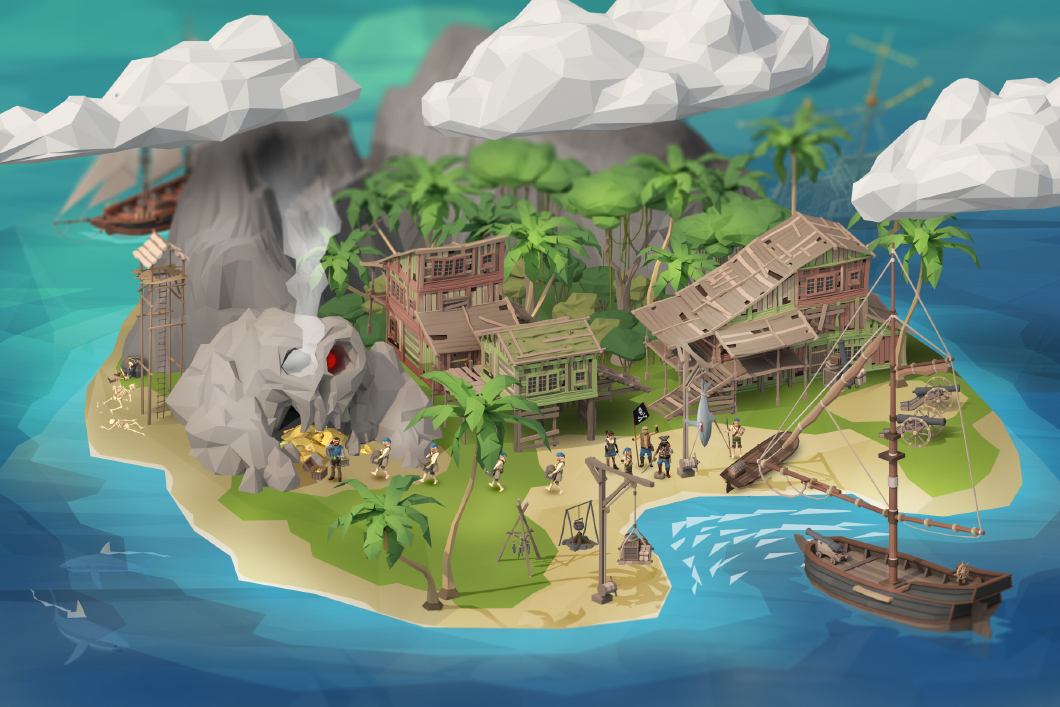 Fair winds and following seas! Watch the full timelapse video, where we're showing the overall process.
Thanks for staying with us and see you at Yellow Images!