PNG Images
Juicy Ice-Cream Poster
It feels like summer!
Watch the full timelapse video to see how we created this yummy ice-cream poster. We hope you will like it! If you want us to create more tutorials and videos on how to use Yellow Images products - just contact us and share your feedback.
What's the mission of a commercial poster? It is to motivate consumers to buy and enjoy the product, to show off its texture, to give a glimpse of the taste, to highlight the lusciousness. With Yellow Images you can make it effortlessly and create stunning food posters and labels ultra fast, without even leaving Photoshop.
In this tutorial we show how to create a bright and juicy poster with delicious ice-cream lollies, fruits and cream splashes using our Add-on and pictures from PNG Images. If you haven't installed Yellow Images Add-on for PNG Images yet, you can do it right now, it's free! Here is the link.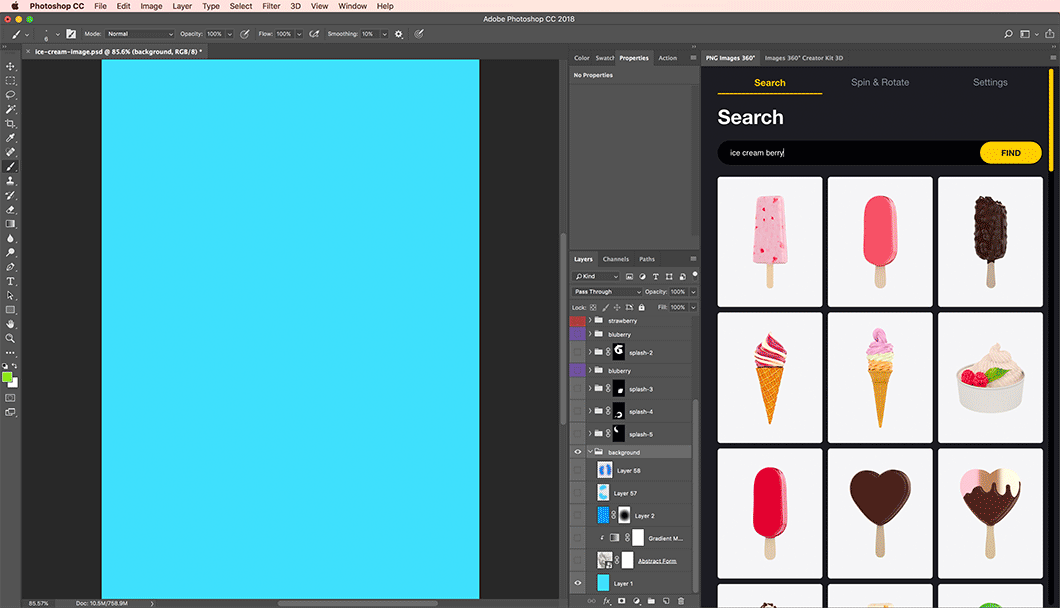 First and the most essential element of our poster is the ice-cream. In the search bar of Add-on tab we type 'ice cream' and among all of the multiple results we choose the shapes and colors which suit us best. By pressing 'Insert New' button we add them to the canvas and start setting a layout of our composition, changing the size, position, angles. The plugin really helps with it.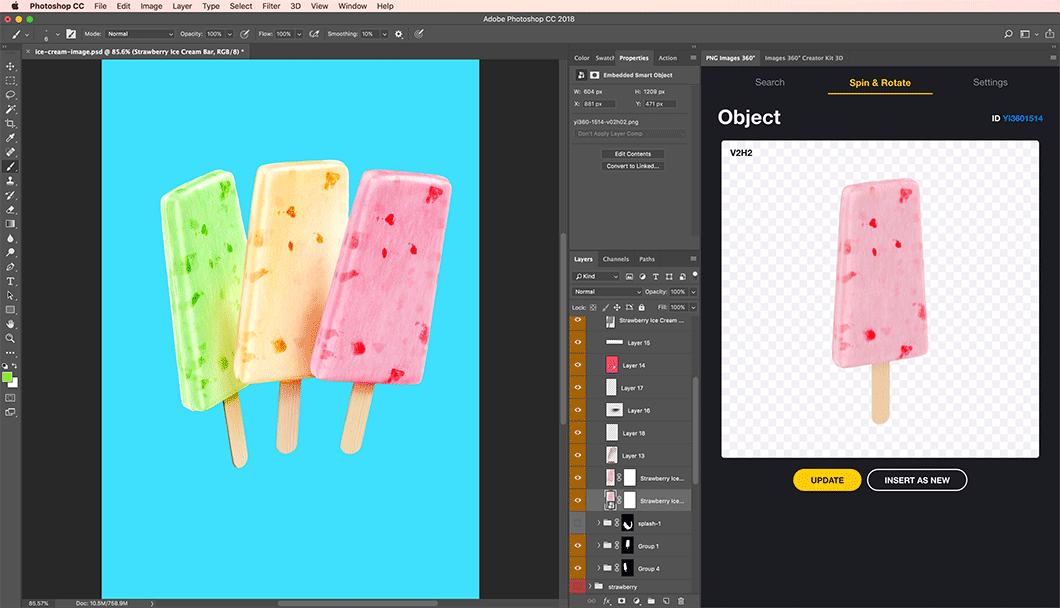 We want to show what our ice-cream is made of, it is fruits and milk, so next step is to add milk splashes. We pick up opaque white splashes, spin them to find better angles and use the Free Transform tool to modify their shapes a bit more. Then goes some Photoshop magic. We take Gradient Map and add warm milky shade to our still perfectly white splashes. With Brush Tool we draw highlights, shadows and reflexes at ice-cream lollies and splashes. This way the composition looks put together and much more realistic.
TIP: All objects from PNG Images library are illuminated evenly and don't have any sharp or high contrast shadows. You can easily finalize their shading and lighting according to your needs, because every object is going to look uniform. As a result you will get balanced artworks and will save tons of time on making extra adjustments.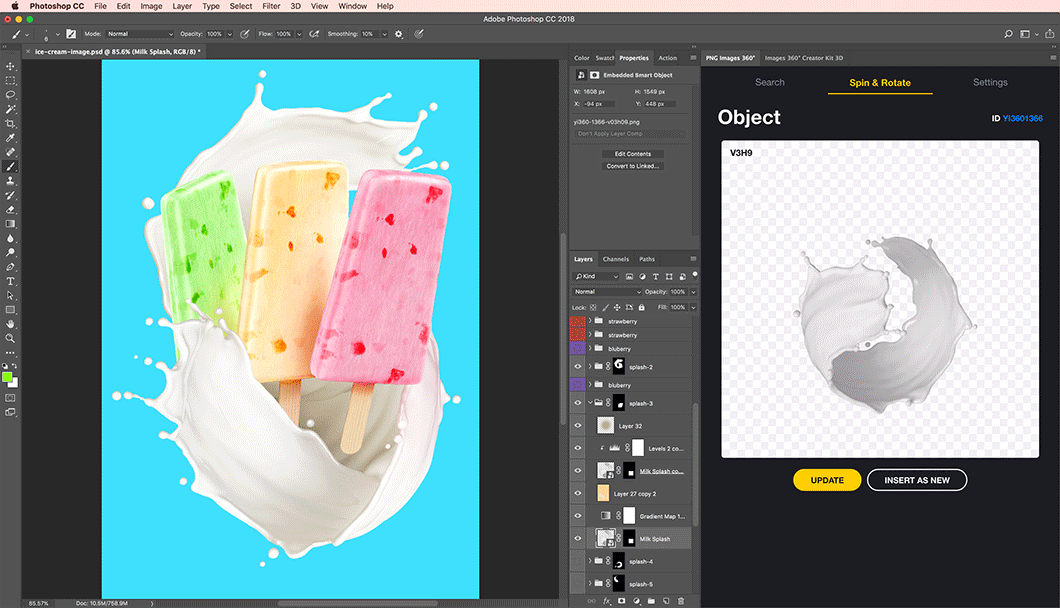 We add a couple more highlights and shadows to our ice lollies to make sure they pop from the background and look bright enough. The range of tools we used is basically limited to brushes, selection, gradient map and adjustment layers.
Now when the base of our poster is done, we add fruits. Our ice-creams have three different tastes: kiwi, apricot and berry mix. The idea is to make fruit slices sink in the milk splashes, so here it's all about the details.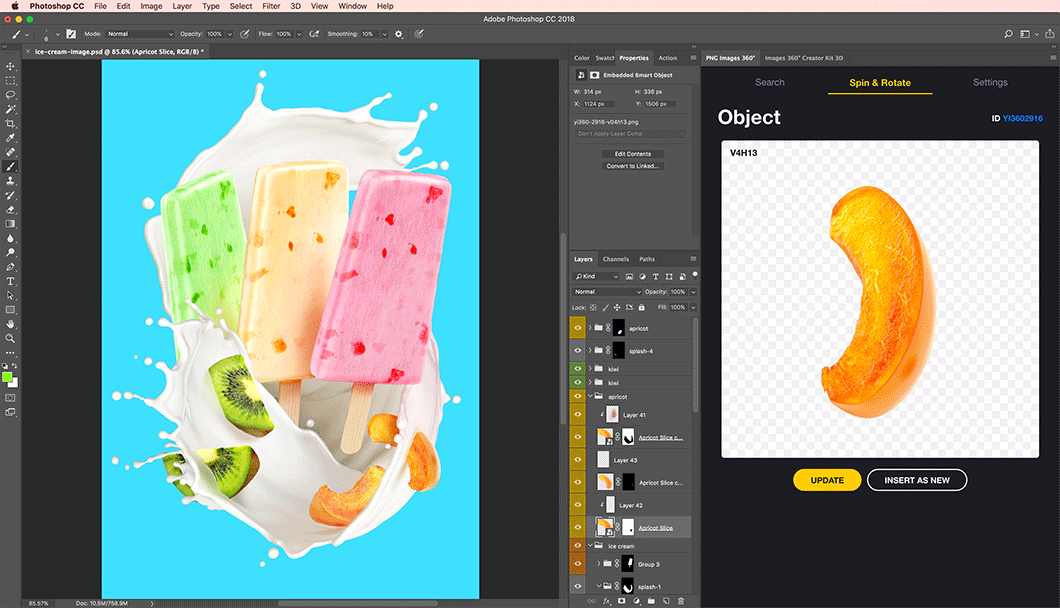 However, the trick is very simple. We pick the fruit and berry slices from the plugin, then by adding masks, blur and working with the opacity at the unmasked parts we create the sinking and floating effect. Some fruit slices are going to really plunge into the milk, so small splashes will bring dynamics and movement to our poster. With PNG Images and a tiny bit of Photoshop techniques you can envision any of your ideas.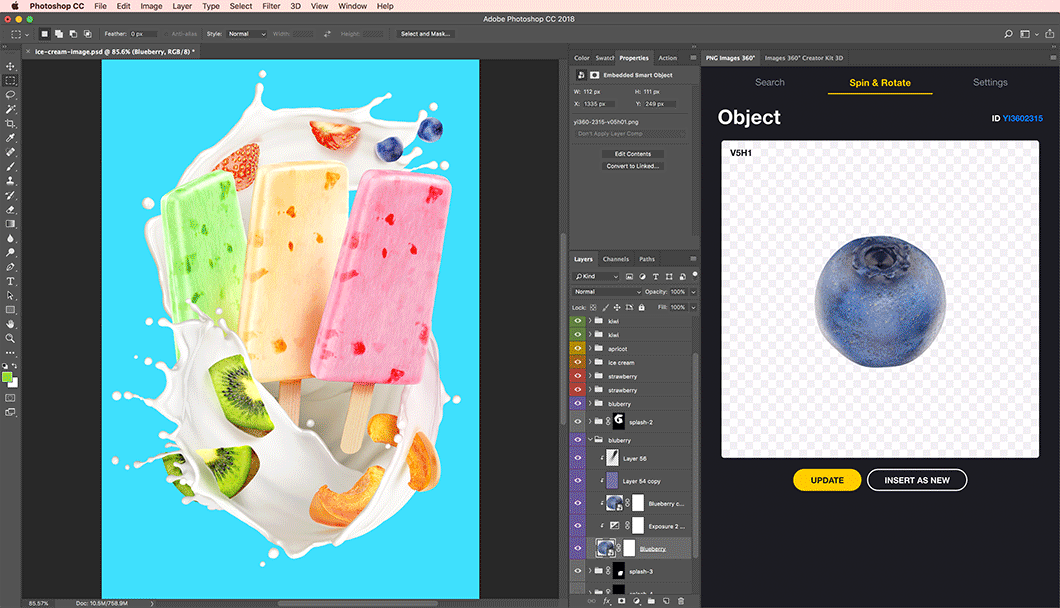 Don't forget to draw the shadows from the fruits and here we go, everything looks good, we can move on to the background. It shouldn't have too much of opinion, but we can't just keep it plain as we'd love to enhance the creaminess of the ice-cream.
We used the PNG Images Add-on search tool again to find the wavy abstract shape. Once we see a good option, we insert and expand this shape to make it cover the whole background area. Paint it with Gradient Map and put a slight darker shade around the edges. We used Masks, you can go for any tool which is most convenient for you.
TIP: High resolution of PNG Images makes it easy to create textures, which would look organic and fit the composition. Abstract shapes, low-poly images and simple objects can be expanded and transformed with no quality loss till you achieve the desired result. Check out how we used the same technique in Low Poly Pirate Island Tutorial.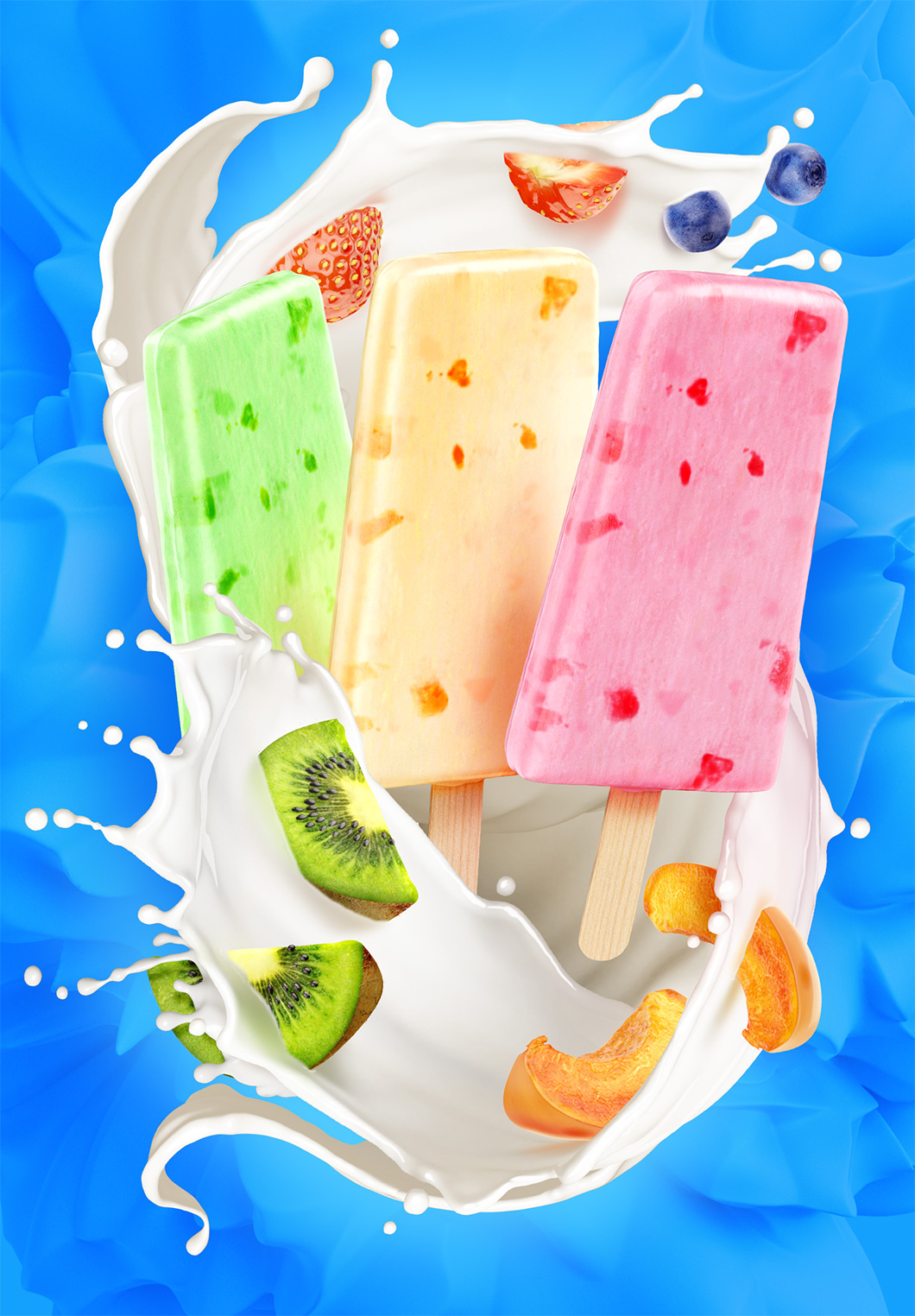 We only used some very basic Photoshop tools, Add-on and several objects from our PNG Images gallery to create this bright summer poster. Our products give unlimited illustrative opportunities and can really help to bring your own vision to life without spending hours in search of that very image or photo. Set your imagination free and improvise with tools, Yellow Images will do the rest.