Object Mockups
Men's Windbreaker Jacket Mockup
Watch our how-to video and don't miss a thing
Your apparel designs will stand out! Watch this video from start to finish and discover the complete process of editing apparel mockups. If you still have some questions or you want us to create more tutorials and videos on how to use Yellow Images products - just contact us and share your feedback.
Highlights and shadows layers to emphasize the shape of the object
Adjust the intensity of highlights and shadows the way you need. It is possible to vary the opacity and fill of each layer until you see the perfect result and optimize the entire look of the jacket.
Add your design easily
Individual smart objects in the SMARTS folder allow you to add design to every part of the jacket.
Just click Front Jersey Design, drag your elements to the opened document and save changes. Your design is already there!
Let's make the jacket brighter by adding color and some design to other parts. FULL COLOR and SHOULDER DESIGN layers allow you to do it in a minute.
Separate clipping masks for every part!
You do not have to waste your time - we have done everything by ourselves. Find PARTS folder, choose the needed element, apply changes and enjoy the simplicity!
Note: for your comfort and better performance each mockup from the apparels category has PARTS MERGED layer. If you prefer using Magic Wand tool (W) instead of clipping masks you can take it and make a selection of every part.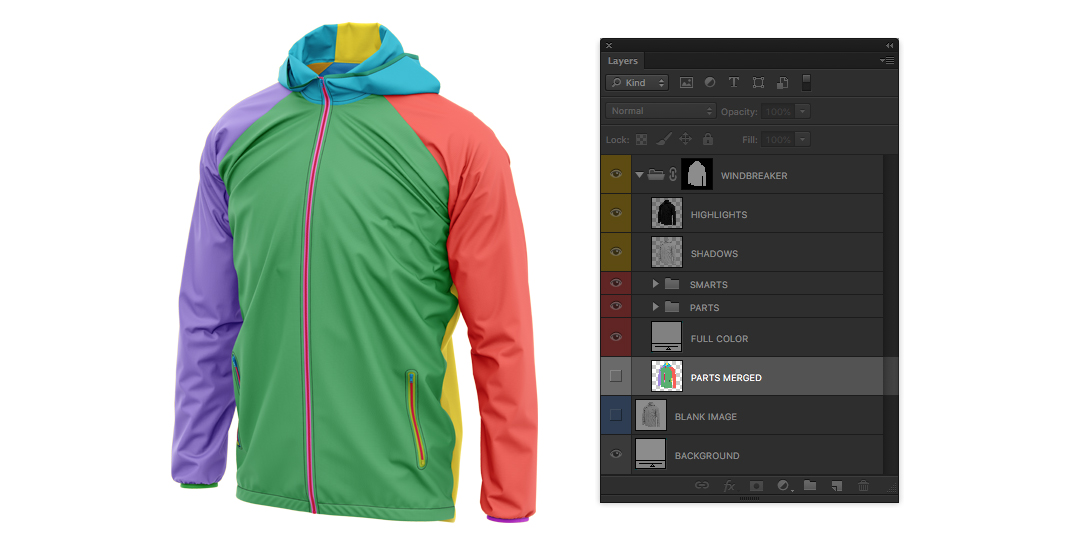 Each mockup also contains BLANK IMAGE.
You can use it if you need a plain picture without any design or colored elements.