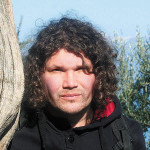 Oleksii Chekal
Ukraine
Oleksiy Chekal is a designer, calligrapher, art historian. The art- director of a graphic design studio PanicDesign (www.panic.com.ua). He worked as a lecturer at the Kharkov State Academy of Design and Arts as well as at the British School of Design in Moscow. Now teaches as a visiting professor in Florence classical arts academy (Florence, Italy) www.artac.org. He conducted numerous workshops on calligraphy and lettering in Ukraine, Belarus, Kazakhstan, Italy, France, Russia. He has several personal calligraphic exhibitions in Europe (Florence, Paris, Palermo, Pratovecchio, Lublin etc). His interests as an art historian focus on the early Christian art of Byzantium, Syria, Europa. He studies history of font and handwritten traditions.
Show more
Seller on markets:
© All rights reserved Oleksii Chekal. Member since February 2018.
Contact the Yellow Images Help Team.
Creative Store
Showing the single result
Showing the single result