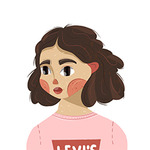 Yuliya Smorochinskaya
Ukraine
Hello! My name is Julia. I am from Odessa, Ukraine. I have been designing websites for 4 years. And now I prefer graphic design and drawing in Procreate. Please feel free to ask me questions.
Show more
Seller on markets:
Ready for a job
© All rights reserved Yuliya Smorochinskaya. Member since November 2019.
Contact the Yellow Images Help Team.
Become an author
Yuliya Smorochinskaya has forbidden to request invite codes from him. To request an Invite, please contact
Yellow Images
.