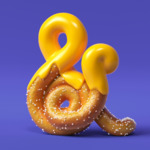 Noah Camp
USA
Noah has combined 9 years of design and CGI with his love of hand lettering and tactile experiences. He is most well-known for his quirky and playful 3D alphabets, creating visceral reactions with seemingly touchable textures. Noah has worked with awesome clients including Toys "R" Us, Instagram, 21st Century Fox, Adobe, BBC, Entertainment Weekly, and more.
Show more
Seller on markets:
Ready for a job
© All rights reserved Noah Camp. Member since January 2020.
Contact the Yellow Images Help Team.
Become an author
Creative Fonts
Showing the single result
Showing the single result