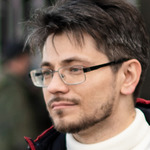 Eldar Zakirov
Uzbekistan
Eldar Zakirov is a professional artist and illustrator with an arsenal consisting of a variety of art techniques, genres, and manners he works. Cooperating with leading magazines and agencies in many countries. His art is published in the USA, UK, Australia, Ukraine, Russia, etc. The author of the presets kits receiving positive ratings from colleagues.
Show more
Seller on markets:
© All rights reserved Eldar Zakirov. Member since February 2020.
Contact the Yellow Images Help Team.
Become an author