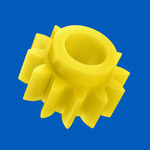 Ivor3D
Ukraine
Greetings! I'm a Freelance 3D Artist specializing in creating highly detailed models of various products for manufacturing, visualization, animation, and mockups in Cinema 4D. I'm passionate about my work. Questions or interested in collaborating? Feel free to get in touch!
Show more
Seller on markets:
Ready for a job
© All rights reserved Ivor3D. Member since August 2017.
Contact the Yellow Images Help Team.
Team Leader
46 members in my team
Become an author