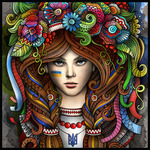 Olga Kostenko
Ukraine
❤❤❤ Welcome to my Doodle world! ❤❤❤ www.balabolka.me My name is Olka. I'm a designer and Illustrator. I work in this industry for over 15 years and I love it so much. Especially like to draw illustrations and doodles on paper. Also, I draw vector images, create art prints for textile, clothes, and accessories, working in the sphere of graphic design, motion design, identity, and typography. I can't imagine my life without art and all time discover more and more new directions! In any of your work, I put my soul! Welcome to my creative world!
Show more
Seller on markets:
© All rights reserved Olga Kostenko. Member since July 2017.
Contact the Yellow Images Help Team.
Become an author